Please join me in congratulating the twenty-six that made the 2014 Best of the Best list. They serve all tastes and every imagination. Some are very, very impressive, high dollar, white table cloth, uptown style cafes; others are downhome, family spots. Each is special. They are presented in alphabetical order by state and city within state. Gaston's Restaurant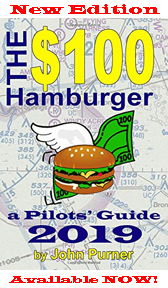 LAKEVIEW, AR (GASTONS - 3M0) The Mesa Grill
SEDONA, AZ (SEDONA - SEZ) Harris Ranch Restaurant
COALINGA, CA (HARRIS RANCH - 3O8 Izzy's Steakhouse
SAN CARLOS, CA (SAN CARLOS - SQL) The Perfect Landing
DENVER, CO (CENTENNIAL - APA) 121 Restaurant
OXFORD, CT (WATERBURY-OXFORD - OXC) Jet Runway Cafe
FORT LAUDERDALE, FL (FT LAUDERDALE EXECUTIVE - FXE) Jekyll Island Club Grand Dining Room
JEKYLL ISLAND, GA (JEKYLL ISLAND - 09J) Pilot Pete's
CHICAGO/SCHAUMBURG, IL (SCHAUMBURG RGNL - 06C) The Airport Steak House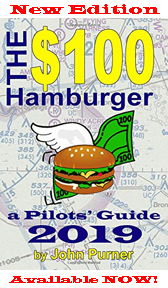 HUTCHINSON, KS (HUTCHINSON MUNI - HUT) Bistro Le Relais
LOUISVILLE, KY (BOWMAN FIELD - LOU) Nick's Airport Inn
HAGERSTOWN, MD (HAGERSTOWN RGNL - HGR) Nancy's Air Field Café
STOW, MA (MINUTE MAN AIR FIELD - 6B6) Rick's Crabby Cowboy
MONTAUK, NY (MONTAUK - MTP) Pik-N-Pig
CARTAGE, NC (GILLIAM-MC CONNELL AIRFIELD - 5NC3) Sky Galley Inn
CINCINNATI, OH (LUNKEN FIELD - LUK) Tin Goose Diner
PORT CLINTON, OH (CARL R KELLER FIELD - PCW) Jake's Joint
ARDMORE, OK (ARDMORE MUNI - ADM) Enrique's Mexican Restaurant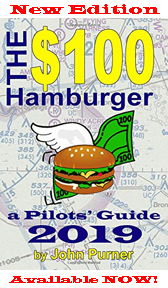 PONCA CITY, OK (PONCA CITY RGNL - PNC) DeNunzio's Italian Chophouse and Bar
LATROBE, PA (ARNOLD PALMER RGNL - LBE) Ryan's Hangar Restaurant & Ace Lounge
HURON, SD (HURON RGNL - HON) Southern Flyer Diner
BRENHAM, TX (BRENHAM MUNI - 11R) The Hard Eight
STEPHENVILLE, TX (CLARK FIELD MUNI - SEP) Rickenbacker's Bistro
OGDEN, UT (OGDEN-HINCKLEY - OGD) The Basin Harbor Resort
VERGENNES, VT (BASIN HARBOR - B06) Spruce Goose Cafe
PORT TOWNSEND, WA (JEFFERSON COUNTY INTL - 0S9) Fly some place today - you've earned it! John Purner


Gotta' Suggestion. Click here to tell us!


---
© Copyright 2014 John Purner. All Rights Reserved.
The copying and use of any portion of this web site is strictly prohibited.